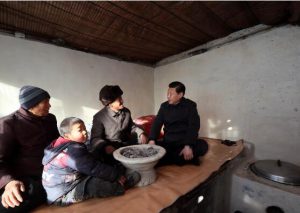 Xi Jinping (R), general secretary of the Communist Party of China (CPC) Central Committee and chairman of the CPC Central Military Commission, visits the family of Tang Rongbin, an impoverished villager in the Luotuowan Village of Longquanguan Township, Fuping County, North China's Hebei province. Xi made a tour to impoverished villages in Fuping County from Dec 29 to 30, 2012.[Photo/Xinhua]
Xi's visit in 2012 pointed way for nation's efforts in improving people's livelihoods
The village where Gu Rongjin has lived for his entire life was on the verge of disappearing 10 to 20 years ago, with few means to support local livelihoods, its young people migrating elsewhere, the farmland unattended and the village school closed.
Luotuowan, a village in Fuping county of Hebei province, located at the foot of high mountains and only about three hours' drive from Beijing, used to typify China's rural poverty. Its residents lived on a meager per capita income of 950 yuan ($147) in 2012, and over 79 percent of its residents lived below the official poverty line.
On Dec 30, 2012, the village welcomed an important guest. Xi Jinping was on a tour to assess the real situation of China's poor areas less than two months after he was elected general secretary of the Communist Party of China Central Committee.
Gu, 73, was then the Party secretary of the village and still has a vivid memory of Xi's tour. "It was about 9 am, and many of us still hadn't had breakfast. I remembered him lifting the pot lid to see what was being cooked. He wanted to see the real situation," Gu recalled in a phone interview.
Sitting down with villagers in their rundown homes, Xi made a powerful appeal about the need to fight poverty.
"As long as we have confidence, even loess can be turned into gold," Xi said during his visit to the county, in remarks that were published last week by Qiushi, the flagship magazine of the CPC Central Committee.
More than eight years on, as China is set to convene a grand meeting on Thursday in Beijing to summarize its poverty alleviation outcomes and honor outstanding units and individuals who have made key contributions to work on this front, analysts said Xi's remarks in Fuping pointed the way for China's poverty reduction effort starting from 2012, mapping out targets and priorities and laying the foundation for the targeted alleviation strategy.
China has secured a victory in its fight to eliminate absolute poverty in rural areas after having lifted nearly 100 million people out of extreme deprivation and ensuring that poverty was eliminated in all 832 national-level poverty-stricken counties by 2020.
"Xi's remarks on his visit to Fuping emphasized a people-centered philosophy, a key development concept that was fully demonstrated during China's anti-poverty campaign," said Huang Jikun, director of the China Center for Agricultural Policy at Peking University.
His remarks also set the tone for the country's efforts to develop a model for poverty alleviation, including steps to attract participation from private capital and focusing on the capacity building of impoverished groups and areas, he said.
The trip, which marked the beginning of China's intensified poverty reduction efforts, was followed by a host of inspection tours made by Xi and meetings he chaired focusing on poverty alleviation in recent years.
Xi first set out the targeted poverty reduction strategy during his visit in November 2013 to Shibadong, an impoverished village in Hunan province.
At a national work conference on poverty alleviation in November 2015, Xi expounded on the goals, tasks and major measures in the fight against poverty and called for the use of targeted steps in the process.
He listed the fight against poverty as one of China's three critical battles in a report to the 19th National Congress of the CPC in October 2017, saying that "poverty alleviation should reach those who truly need it and deliver genuine outcomes".
China has secured a major victory that is worthy of esteem from the whole world and the country has reshaped the look of its poor areas, improved the conditions of production and life and improved the quality of life of the public during the process, Xi said at a key Party meeting in December.