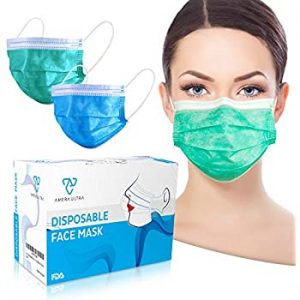 Inspection items of various face masks quality inspection: filter efficiency test, quality test, tightness, air tightness, active carbon component test, microorganism test, ethylene oxide residue, dust resistance efficiency, filter element test, etc.
From August 1, 2009, gb2626-2006 respiratory protective equipment self-priming filter type particle respirator was implemented, which stipulated that the protection levels for particles were Kn90, kn95 and kn100. The protection levels of oil particles are kp90, kp95 and kp100. The filtration efficiency was 90%, 95% and 99.97% respectively. Kn100 and kp100 are of high protection level. According to the national gb2626-2006 standard, the filter elements of dust masks shall be printed with permanent identification: 'gb2626-2006-kn100' national standard, year number and protection grade identification. The higher the degree of protection and filtering efficiency, the higher the safety of the dust mask.
Protection performance for fine particles (PM2.5) The protection effect level is set according to the air quality category in the national air quality standard. The protection effect level is divided into four levels from low to high: Level D, level C, level B and level A. The corresponding use environment is as follows: Level D is suitable for moderate (PM2.5 concentration no more than 150 g / m3) and below pollution, level C is suitable for severe (PM2.5 concentration no more than 250 g / m3) and below pollution, and level B is suitable for severe pollution Dye (PM2.5 concentration no more than 350? g / m3) and grade A are used when PM2.5 concentration reaches 500? g / m3. Wear mask reasonably according to the standard requirements, which can reduce the concentration of PM2.5 inhaled to less than 75? g / m3, and make the air quality in the inhaled body reach good or above level.
Test standard of respirator 1aq 1114-2014 self suction filter dust mask for coal mine 2fz / T 73049-2014 knitting respirator 3MT / T 161-1987 general technical conditions of dust filter and air supply dust mask 4yy 0469-2011 medical surgical respirator 5yy / T 0866-2011 total leakage rate test Party of medical protective respirator 6yy / T 0969-2013 disposable medical respirator 7yy / T 1497-2016 test method for evaluation of virus filtration efficiency of medical mask materials Phi & mdash; X174 phage test method 2GB / T 22927-2008 mask paper 4GB / T 32610-2016 technical specification for daily protective mask.
Some common factors for disposable masks quality control:
Appearance
Measurement of product
GSM check of each layers
Basic function check
Smell test
Application check
Rub test for logo/fabric
Pull strength test for earloop/seam
Fire test: the meltblown fabric is fireproof
Waterproof: the meltblown fabric is waterproof
Electrostatic adsorption test: the masks with meltblown fabric inside will attract small pieces of paper
Light transmission test
Breath test with a mask test
Packaging & Labels
Carton drop test