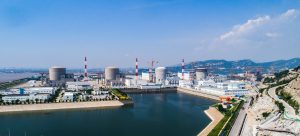 Back on December 15, 1991, China's first self-designed and self-built nuclear power plant, Qinshan Nuclear Power Plant, was connected to the grid, ending the history of no nuclear power in the Chinese mainland. China has become the seventh country in the world to design and build its own nuclear power plants.
In the past 30 years, on the basis of the Qinshan Nuclear Power Plant, known as the "glory of the nation", China's nuclear industry has achieved a historic leap in overall technology and management, and a number of large nuclear power bases, such as Tianwan, Fuqing, Changjiang and Sanmen, have been built. On January 30 this year, China's own third-generation nuclear power technology hualong One, the world's first nuclear reactor, China National Nuclear Corporation Fuqing Nuclear Power Unit 5, was put into commercial operation, making China a leader in the world in third-generation nuclear power technology. Currently, China ranks third in the world in operating nuclear power units and first in the world in nuclear power units under construction.
From scratch, from small to large, not only leading in scale, but also innovative development. The development of China's nuclear industry can not be separated from the hard work and pioneering innovation of generations of builders. Ye Qizhen, academician of the Chinese Academy of Engineering, and other outstanding figures of Qinshan Nuclear Power Received awards at the 30th anniversary report on safe power generation of Qinshan Nuclear Power Plant held by CNNC and China Nuclear Power Innovation and Development Forum on December 15.
At present, Qinshan Nuclear Power has 735 patents and 2 ISO international standards. "Hualong One" meets the highest international safety standards in terms of safety, while all the core equipment has been made in China, with 88% of the first set being made in China, fully equipped with the capability of mass construction…
Nuclear group party secretary, chairman of the board in the jian-feng yu said, from qinshan to fuqing nuclear power "poor" started from the technology in China, the independent million kilowatt nuclear plant design, construction, our country has become the world's one of a handful of countries with complete industry system, and on this basis to form the complete nuclear power industry chain, to realize the large-scale development of nuclear power.
Safety is the lifeblood of the nuclear industry. Over the past 30 years, China's nuclear power units have maintained a good safety record, improved operation management level year by year, and significantly improved the safety and economy of units. In 2020, 15 operational nuclear power units of CNNC received full marks in WANO index, and since 2021, 16 operational nuclear power units have received full marks in WANO Index, reaching the world's leading level.
The Qinshan Nuclear Power Plant has nine operating units with a total installed capacity of 6.6 million kilowatts and an annual generating capacity of about 52 billion kilowatt hours. So far, the Qinshan Nuclear Power Base has generated more than 690 billion kilowatt-hours of electricity, equivalent to 653 million tons of carbon dioxide reduction, and 433 West Lake scenic spots have been planted with trees.
The "green report card" of Qinshan Nuclear Power Is the epitome of the green economic and social development boosted by nuclear energy. Yu jianfeng said that it is an important responsibility and mission for CNNC to achieve peak carbon neutrality in China, as well as a major opportunity to achieve high-quality development.
Not long ago, the "Opinions of the CPC Central Committee and The State Council on Fully, Accurately and comprehensively Implementing the New Development Philosophy to Achieve Carbon neutrality" clearly stated that nuclear power should be actively, safely and orderly developed. According to the 2030 Carbon Peak Action Plan, the layout and development schedule of nuclear power plants should be properly determined, and the orderly development of nuclear power plants should be maintained on the premise of ensuring safety, and the steady pace of construction should be maintained.
Industry experts believe that achieving carbon neutrality will lead to a green and low-carbon transition in the economy and society, especially in the energy sector.
At present, China's coal consumption is relatively high, the weak stability of renewable energy and other factors, the adjustment of energy structure is still a great challenge. Nuclear power generates electricity in a safe, efficient and clean way and operates stably and reliably, offering a realistic option to deal with global climate change, Ye said.
Zhou Shifeng, vice president of Zhejiang Development Planning Research Institute, proposed that Zhejiang should develop nuclear power projects in accordance with the principle of "positive, safe and orderly" in the next step, promote the construction of zero-carbon future city (park) in nuclear power bases, and encourage the comprehensive utilization of nuclear energy such as nuclear energy heating and hydrogen production.