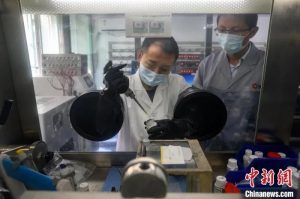 Shanxi gives full play to its resource endowment and energy advantage, and promotes the scale effect of carbon-based new materials industry through the joint efforts of government, industry, learning, research and application.
"Shanxi has the cost and cluster advantages of coal resources, and promoting the transformation of coal from 'energy' to 'material' is an inevitable foothold and important support for the development of Shanxi's new material industry." Chen Chengmeng, a researcher at shanxi Institute of Coal Chemistry and deputy director of the Key Laboratory of carbon materials at the Chinese Academy of Sciences, said.
Shanxi is rich in coal, how to play the advantage of resource endowment, Shanxi has been exploring breakthroughs.
It is clear in the plan of 14 Strategic Emerging Industries in the 14th Five-year Plan of Shanxi Province that in the aspect of carbon-based new materials industry, key technologies such as graphene, supercapacitor carbon and third-generation carbon fiber will be made breakthroughs, leading domestic research and development base of carbon-based new materials industry will be built, and the coal industry will be promoted to high-tech and high value-added transformation and development.
From raw materials to new materials, Shanxi coal industry transformation jumps out of its "energy" value, aiming at the goal of "by 2025, the revenue of carbon based new materials industry will reach 50 billion yuan".
Graphene, the king of new materials, can be made from coal, capacitor carbon, lithium anode, and carbon fiber. In 2012, the Shanxi Institute of Coal Chemistry, Chinese Academy of Sciences set up a research group to carry out research and development of advanced carbon materials, making breakthroughs in graphene, capacitor carbon and other fields.
"In the process of developing activated carbon for supercapacitors, hundreds of tons of raw materials such as precursors and activators were used." Chen Chengmeng introduced that the research group started from the basic process experiment to master the core technology. At present, the first phase of capacitor carbon industrialization project has been officially launched in Qingxu, and a ton of graphene production line has been running steadily for more than seven years.
The world is facing a new round of scientific and technological revolution and industrial transformation, and mastering the discourse power of the new material industry has become the focus of contention. At present, Shanxi is frequently deployed in the field of carbon-based new materials. While accelerating the technological maturity of carbon fiber, graphene, and supercapacitor carbon, it simultaneously promotes the industrial application of carbon-based synthetic new materials, seeking to occupy a higher position in the national industrial chain.
After shanxi Yangmei Group changed its name to Huayang Group as a whole, this provincial key state-owned enterprise transformed from coal to new material industry. A batch of new projects, such as carbon-based aerogel, anthracite sodium ion battery and monolayer graphene oxide, have pressed the "fast forward button".
"Carbon-based new material industry is still in the incubation period, there are few products on the market at present, key technologies in some fields are still restricted by developed countries, and high-end products are still dependent on imports." Chen chengmeng said that shanxi should make full use of its resource endowment and energy advantages, and promote the scale effect of carbon-based new materials industry through joint efforts of government, industry, learning, research and development.
"Facing the demand of new materials and energy revolution, it is the mission of researchers to conquer key technologies and help the low-carbon transformation of the coal industry." He said.