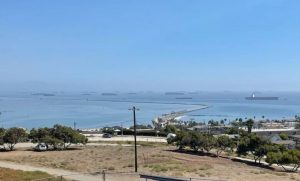 The port of Long Beach in Los Angeles is moving toward a 24-hour operation
Global shipping prices have more than quadrupled from a year ago
A large portion of Christmas trees sold in the U.S. come from Asia, but record shipping rates for containers have forced U.S. retailers to raise prices to cope with rising shipping costs. The average shippin?g price for a 40-foot container around the world has more than quadrupled from a year ago to more than $10,000, according to the Global Pricing Index of London-based DRE Shipping Consultants LTD.
Ships have been forced to drift in SAN Pedro Bay in record numbers as all anchorage along the California coastline fills up with ships loaded with containers. Snapshots from MarineTraffic, the online ship-tracking service, have needed to zoom deeper into the ocean as new queues are created every day.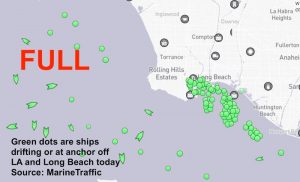 At the ports of Los Angeles and Long Beach, two of the nation's largest maritime gateways, 95 ships were lined up for berths, according to the Southern California Maritime Exchange on Monday. Of the 95 ships in the queue, 70 are container ships. Notably, 37 ships — including 29 container ships — were forced to drift in the Pacific.
In the process, ships often drift for miles and then return to their original position, which tends to use a lot of fuel. Ships at the back of the queue now have to wait up to three weeks for berths to open.