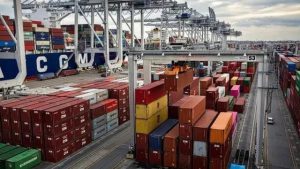 According to Business Insider, ports in southeastern New England were closed by the US Coast Guard on August 22 as tropical Storm Henry brought strong winds and heavy rain to the region.
The Coast Guard said in a statement late Saturday that several ports, including Narragansett Bay and Mount Hope Bay, were under Hurricane Zulu alert, meaning they were closed to ships due to strong winds.
Previously, the port had been under "Yankee" status, meaning tropical or hurricane-force storms were expected to make landfall at the port within 24 hours.
Tropical storm Henri and the resulting port closures come amid a recent surge in shipping costs that has slowed and caused massive shortages of goods across the global supply chain, which was severely disrupted by last year's COVID-19 pandemic and made worse by the blockade of the Suez Canal earlier this year, the report noted.
Business Insider reports that major global shipping alliances have cut traffic between Asia and Europe by 22 percent over the spring of 2020, while operators have cut capacity between Asia and North America by about 20 percent.
In 2012, after Hurricane Sandy hit the East Coast, the U.S. Coast Guard reported $70 billion in damage to more than 180 ports in the region that would take months to recover.
Wildfires in the Western United States, flooding in China and Europe and drought in South America have disrupted supply chains for everything from wood to chocolate to rice for sushi, CNBC reported.
Christy Slay, senior director of science and research applications at the Sustainability Alliance, said: "Whether you're in the agriculture sector, the forestry sector or the technology sector, virtually no industry is immune to the effects of climate change".
CNBC notes that about a quarter of the wood consumed in the United States comes from Canada, which is experiencing severe droughts and wildfires. Brazil is suffering its worst drought in more than a century, partly as a result of a surge in coffee futures prices in July, which almost doubled from a year earlier. While the increase has not yet been passed on to consumers, experts say price increases will come soon. Even pearl rice, used in sushi, has been hit. Two-thirds of the crop consumed in the United States is grown in California, which faces water shortages due to drought and wildfires, and rice crop production requires a lot of water.
Extreme weather events can also disrupt supply chains because workers cannot find jobs. According to a recent report by the United Nations Development Programme, workplace disruptions caused by climate change could result in more than $2 trillion in lost productivity by 2030.