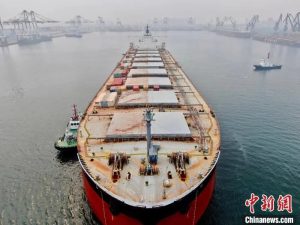 Since the beginning of this year, The Port of Yantai in Shandong province has completed a total of 52 china-Africa liner shipments.
The number of sino-African liner shipments in The First three quarters of this year increased 74.4% from the same period last year, becoming a new growth point in the Belt and Road Initiative, according to sources from The Port of Yantai in Shandong On Monday.
Recently, the ship "Welli Mission" loaded with 14,000 cubic meters of equipment and materials for Export to Guinea left Yantai port and sailed across the Indian and Atlantic Oceans to the African continent. This is the 239th cargo export liner to Africa from Yantai Port since the operation of "Yantai – Guinea" cargo cargo liner.
It is reported, "WeiLi mission" during the port operations, port and the overseas development of shandong port group, shandong luhai international logistics group close together, fully open the domestic shipping and receiving overseas docking channel, in 1.5 a day and efficient complete 394 pieces of equipment, vehicles and building materials shipment, again to polish china-africa liner – sea express "brand.
According to statistics, Since the beginning of this year, Yantai Port of Shandong province has completed a total of 52 shipments by liner between China and Africa, including 43 shipments to Guinea and 9 shipments to social cargo sources, and its business has reached 18 ports along the coast of West Africa.
Yantai Port in Shandong province is one of the 15 coastal ports under the Belt and Road Initiative. Port power construction logistics channel in recent years, built a guinea from Africa bauxite mine to domestic end users end-to-end logistics chain, and accurate docking guinea local project requirements, using the carrier return shorts for Africa transportation engineering machinery, equipment, materials, etc., positive for the china-africa economic and trade exchange potential energy storage.