If you want to open a shop in Amazon Germany, you need to understand the rules of Amazon and the laws and regulations of Germany, otherwise you can't operate smoothly. German packaging law is a law to reduce the use of packaging and the impact of packaging on the environment. Although it has been nearly two years, there are still many sellers who do not know the rules, or even how to register. It doesn't matter, today this article will take you in-depth understanding and study the German packaging law.
First of all, let's understand what is the German packaging law?
German packaging method -Verpackungsgesetz, referred to as VerpackG. It is an upgraded version of the German packaging Regulation Verpackungsverordnung (VerpackV), which came into effect on 1 January 2019. The decree creates a new set of obligations for commercial entities to package goods on the German market. As a supplier of products and goods to the German market, Etisoft has met these requirements and is registered in the Central Packaging Registration System. If you do Europe or Germany station, deep cultivation of Germany, must understand this packaging method, and must go to the registration for the record!
What happens if the German packaging law is not registered?
The packaging law and regulations have come into effect on January 1, 2019. I believe that those who do European stations have received an email notification from Amazon. All sellers are required to comply with the new packaging act, otherwise the products will not be stocked or sold in Germany.
Requirements: as long as your customers are in Germany (that is, anyone staying in Germany will receive your package), any package of your products must be registered and licensed. Otherwise, your product will not be able to sell in Germany, and you will have to pay a fine of up to 200,000 euros!
Why is there this law?
The answer in two words: environmental protection. Germany requires you to register, that is, to let the waste disposal company in your country know whether your packaging can be handled. If they can handle it, they'll sell it to you; If it cannot be treated, they simply refuse entry.
German packaging law registration process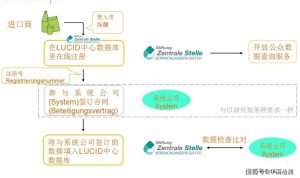 LUCID management system
The law applies to all packaging. Through a central database, better management of manufacturers and waste management systems companies, more transparency, physical and chemical requirements consistent with the old packaging regulations, and minimal packaging as possible. It is recommended to mark the materials according to the packaging materials, such as PET, PVC, PAP, ALU, FE, GL, TEX, lead, cadmium, mercury, and hexavent chromium. The total quantity does not exceed 100 mg/kg
You need to register with LUCID online
To register online in the LUCID Central database:
Importer name, address and contact information (public) Natural person with representative/agent status Manufacturer identification number or EU tax number brand name (public) participating in one or more system company statements submitted information accuracy statement
Fill in the LUCID Central database with the following information:
Registration Number Packaging materials and Weight System Company name Effective period of the contract
Submit to LUCID by March 15 of the following year, subject to expert review before submission
Main contents of VE Statement:
The packaging material and weight actually introduced into the market in the previous year participating in one or more system companies are exempt: glass not exceeding 80 tons, paper not exceeding 50 tons, or other packaging materials not exceeding 30 tons
A fine
Failure to register with LUCID in time can result in a fine of up to 100,000 euros; Failure to participate in systems companies can result in fines of up to 200,000 euros
Note to Amazon Sellers:
All materials and information are provided directly by third party providers. Amazon does not appoint or recommend any third party providers and cannot guarantee the accuracy or completeness of any of its materials. To the fullest extent permitted by applicable law, Amazon and its affiliates disclaim any warranty, express, implied or presumed.
In principle, all typically wasteful packaging by end users must be licensed. This includes transporting materials. The manufacturer or first issuer of packaging material shall be responsible for licensing. "Erstinverkehrbringer is the first person to distribute b2c packaging containing goods to third parties for commercial (and possibly free) purposes for distribution, consumption or use," the Central Office wrote.
In order to make your products more safely sold in Germany, it is recommended that you register the packaging method as soon as possible!