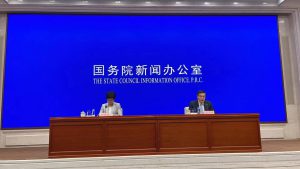 Qian Keming, Vice Minister of Commerce, introduces the economic and trade work of the 8th Ministerial Conference of the Forum on China-Africa Cooperation (FOCAC) at a press conference held by the State Information Office at 10:00 today (November 17).
Qian Keming said that the new measures of this session are mainly based on the following considerations:
First, we need to align our development strategies. The new measures will combine China's long-term goal of 2035 with a new development pattern featuring "dual circulation". The purpose of our cooperation with Africa is to align our plans with the AGENDA 2063 of the African Union. The African Union has formulated an Agenda 2063, and there are many specific plans within this framework. We will enhance the synergy of our strategies in this regard and define the development path and specific measures for China-Africa cooperation.
Second, focus on cooperation opportunities. New measures will focus on the epidemic situation in Africa and china-africa cooperation in economic and social development of new opportunities, covering both traditional china-africa cooperation areas, and to support the development of Africa as the main line, focusing on health disease resistance, poverty reduction and trade and investment in areas such as people's livelihood, expanding African in the digital economy and green low carbon, vocational education and other emerging areas of cooperation. The synergy strategy I just mentioned is a long-term plan. Actually, we have a three-year cooperation plan, which focuses on specific areas of cooperation.
Third, pool strength for cooperation. The new measures will encourage and support more departments, local governments, enterprises and financial institutions, as well as market-based funds such as commercial credit and enterprise investment, to participate in China-Africa cooperation, thus increasing the effective force of China's cooperation with Africa. In the past, we mainly provided assistance at the central level, including sovereign loans, but now we need to expand to local governments and enterprises, especially private enterprises. In addition, it has expanded from some traditional areas to emerging areas, including low carbon and digital economy, with diversified participation and expansion to emerging areas.
Qian said that during the meeting, China and Africa will jointly release the China-Africa Cooperation Vision 2035, make a medium – and long-term plan for China-Africa cooperation, lay down the main framework for bilateral cooperation in the next 15 years, and further enhance the forward-looking, systematic and continuity of the new measures of the Forum. We believe that with the joint efforts of China and Africa, the new FOCAC meeting will be a grand gathering for China and Africa to achieve win-win cooperation and common development at a higher level.