Ladies backpack check points
1. Check whether the attachment is missing
2. Check whether the belt is firmly sewed
3. Check whether the fabric is damaged or drawn
4. Check whether the fabric has chromatic aberration
5. Check whether the clasp/zipper is easy to use
6. Check whether the tubular trim is too short
7. Check whether the stitch spacing is too close/too thin
8. Check whether the seam is neat
9. Check whether the Logo printing is good
10. Check whether the hem stitches are good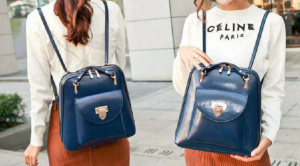 Ladies backpack test
1. Zipper fluent test: during the test, pull the zipper by hand to see whether the zipper is smooth in the process of pulling. Unzip the zipper and then pull it up.
2. Snap reliability test: during the test, use hand rebate to check whether the function of Snap is applicable.
3. (3 M coating adhered test) , where there is printed with 3 m tape tear at ten times back and forth, whether the printing is off.
4. Measurement: according to the size given by the customer, check whether the product size data meets the customer's requirements.
5. Mildew and odor test: check whether the product has mildew and smell whether the product has pungent odor